Welcome to Holy Cross District High School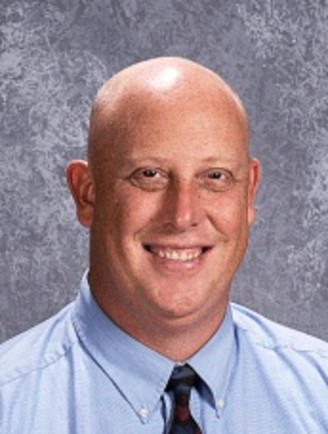 Holy Cross District High School is today, in good measure, a product of the tradition that has been created over the past eight decades.
This proud and spirited legacy has at its core, a commitment to excellence and a dedication to faith. While the curriculum, buildings, and teachers have changed, the foundation of our school remains the same. The strong work ethic, the family atmosphere, and the never say die attitude are characteristics that serve as a common thread between the past and the present and connect alumni and friends from all generations. This website serves as another means of connecting with the school and with others who share in the desire to preserve that tradition. Read more
Holy Cross High School is a place that demands everything you can give, and nothing less, and in return gives you undying loyalty and friendship.
-Mrs. Susan Schlarman, former teacher 
"It means so much to us as parents that our daughter's coaches, Mrs Brittany Black and Ms Lisa Baumann care for her like she was their own. They laugh and love together and she is thrilled to be a part of what both of these teachers/mentors/coaches are doing for Holy Cross High School. We are so blessed to know that our child is not only getting an outstanding education here, but feels loved, safe, and treated like she can grow and be her best self every day. We are blessed to be part of such a great community that is HC."
                                                                                                                              ~Malissa and Rich Gangwish
Dear Parents,
On behalf of the entire faculty and staff we want to thank you in advance for your patience and understanding as we move through these unique times. 
No school March 16th-27th. All events are canceled through April 3rd and will be rescheduled.
Just to follow up on the changes for the next few weeks.
Events:
All events at Holy Cross High School or events sponsored by Holy Cross High School beginning tomorrow and through April 3 are canceled.We will do our best to reschedule as many of these events as possible.
Distance Learning – Schoology/Google Platform/Email
All students took a survey this morning to confirm their ability to access the Distance Learning Platforms.  Mr. Knox met with students who had issues and feel that we have resolved all of the issues.  If you have questions please contact Mr. Knox
Students will complete coursework and communicate for their classes through Schoology (Google/Email).  Teachers have met with all of their classes today and gave an overview of how they will set up their classes. 
There should be three assignments per week for each class.  The teacher will communicate to the students how the assignments are to be turned in.
Teachers will set-up "virtual office hours" when they can be reached directly via email or other electronic platform.  This is a time for students to ask questions and/or get clarification on topics.  These hours will be communicated to the students through Schoology.
We ask for your help in making sure that your student(s) are staying current with their school work.  By using your Schoology login you can check your student's progress.  Please feel free to reach out to teachers about specific course questions.
Thank you again for your understanding.  We know that this will be a little strange as we work through this difficult situation and continue to provide a quality Catholic education in these unique set of circumstances.
Mike Holtz, Principal
Cancellations:
3/15 Magnified Giving Pancake Breakfast Canceled (will be rescheduled)
3/18 Report Card Night Canceled (ring ordering will be rescheduled)
3/20 Prom is Canceled (working to be rescheduled)
3/20-3/21 Alumni Basketball Tournament Canceled (working to be rescheduled)
3/23 Bingo Canceled
-ACT Prep Canceled
Fellow Alumni and Friends,
The halls are quiet here at our Alma Mater. Faculty and staff continue to work to insure our students thrive academically during this time. We ask for your prayers. 
As Athletic Director, I have had to make some very important and necessary decisions. Our Booster fundraisers have been postponed.... Fish Fry, Alumni Basketball Weekend and Pat Taney Night at the Races. This will have an effect on our Co-curricular support. The boosters raise the funds to support us financially so that tuition dollars support the operational cost for the school. 
THE GOOD NEWS: Our Mulch Sale is in full swing, our GOAL 50,000 bags. We are blessed that many ADULT volunteers have stepped forward to deliver in the event we are still practicing social distancing into May. Mulch will be delivered to our supporter's homes and placed ANYWHERE in your gardens or designated areas. 
The benefits:
NO MESS IN YOUR CAR
NO STINK ON YOU OR YOUR CAR
NO PUBLIC SHOPPING OR EXPOSURE
HELPING HC AND THEIR WONDERFUL STUDENTS!
Please visit our mulch website at www.hcmulch.com OR phone Marcy Driscoll (Mike Driscoll's, '80, wife) at 859-392-8999. In addition on the website is a place to make a donation if you do not need mulch this year. 
OUR STUDENTS NEED YOUR HELP. IF YOU KNOW A STUDENT PUT THEIR NAME DOWN. IF YOU WANT ONE TO BE ASSIGNED FOR CREDIT LET US KNOW. 
I know I can count on you. This has always been the Holy Cross Way. 
Stay Safe, 
Anne Verst Julian, '86
Holy Cross High School is selling Black Platinum, Red Dyed and Black Dyed Mulch and Pine Straw DELIVERED to your home, business or rental property with no sales tax.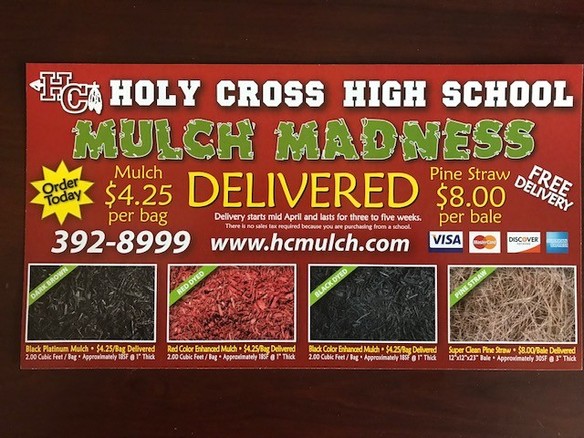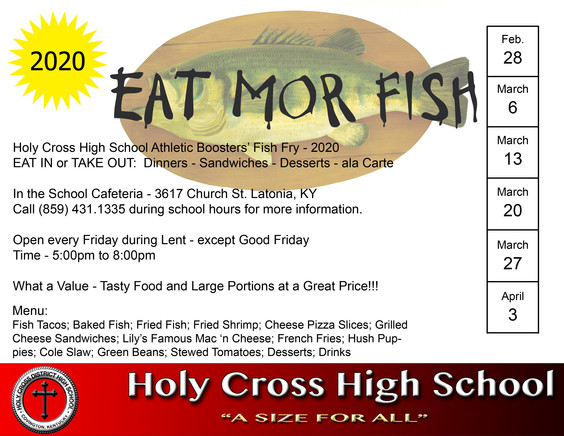 Click above for full menu and prices
Notice: due to the Coronavirus Epidemic and the State of Kentucky and the Covington Diocese mandates, effective Saturday, March 14th, the Holy Cross High School Boosters Fish Fry will be closed 100% for the next [2] weeks - that includes EAT-IN & TAKE-OUT. These dates are March 20 and 27.
Currently we forecast our reopening for Friday, April 3rd. However, obviously as circumstances are subject to change, please stay tuned for future communications as they may be updated.
Upcoming Sports Events: