SENIORS:
Keith Ritchie from KHEAA will be here on Thursday, April 20th (during Enrichment) to meet with the entire Senior Class!
He has a presentation that he has been conducting at other neighboring schools!  He will talk about "thriving" in college, and the transitions with commuting, dorming, homesickness, handling independence...etc.
Keith will make this relatable for all students "transitioning" to the next phase of life, so even if a student is not attending college, he will talk about other avenues! 
Seniors will go STRAIGHT from 3rd bell to the cafeteria!
** Also, if anyone has KEES money or FAFSA questions, they can meet with him after the meeting to follow up ! 
PLEASE remember to get your scholarship & award letters to Mrs. Dipzinski as soon as you can!
We will take ALL the scholarships you have been awarded.  All of your Scholarship Awards will be read at Awards Night and the scholarships you are accepting will be read at Graduation.
Also, the Senior STAR WALL has begun! If you know your plan for next year, whether that be college, trade school, military or a career/job... we would love to highlight it on the wall!
SKILLED TRADES CAMP
Enzweiler Building Institute 
The Skilled Trades Camps are OPEN to students entering grades 10-12 who want to learn basic building skills and explore high-demand careers in carpentry, electric, HVAC, plumbing, welding and more! Click Here for the camp application
Just a reminder about the Work Ready Scholarship Program offered through Gateway Community & Technical College.
Get a degree TUITION FREE!
The Work Ready Kentucky Scholarship provides financial assistance for eligible Kentuckians who are pursuing an industry recognized certificate, diploma, or associate of applied science degree.
   *60 credit hours tuition free.
   *Over 2,600 course options available.
   *Certifications in as little as 4 months.
ACT Information:
The next testing date to take the ACT is June 10, 2023 with a registration deadline of May 5, 2023.  To register for this upcoming test, or for more information about the ACT, please go to www.actstudent.org/start
Seniors and Juniors:
A link has been provided for students at Holy Cross to take the "My Major Quiz."
After taking this assessment, you will be recommended the top majors, colleges, and careers based on your academic achievements, interests, and personality. https://hchscov.mymajors.com/college-major-quiz/
Scholarship Opportunities:
ONE MONTH LEFT: $20,000 AMF Scholarship Fund Application
With May approaching, so is the deadline for the Anthony Muñoz Foundation Scholarship Fund. There is a little less than one month until the deadline for the $20,000 Scholarship Fund!  For scholarship information, eligibility requirements, and access to the application you can visit the Anthony Muñoz Foundation website.
Applicants for the Scholarship Fund must meet these requirements to be eligible:
·  A minimum GPA of 3.0 or a minimum composite ACT score of 18
·  Planned attendance to an eligible college or university
·  A freshman standing by the fall of 2023
·  A desire and intent to overcome adversity, financial need, high academic standings and a leadership role in the community
You can further view our eligibility requirements here.
 Students can submit their applications online, or through mail. All applications must be submitted by Monday May 1, 2023, by 11:59p.m. and must be completed entirely to be considered. Also, AMF has partnered with Mount St. Joseph University to provide an additional scholarship opportunity. It can be stacked with Scholarship Fund, and does not require a separate application.
If you have any questions or concerns, Conner Allen can be reached at 513-772-4900 or at [email protected].
Click here for the American Legion Auxiliary Scholarship
Below is the link for the NSPE-KY Kentucky Society of Professional Engineer - Northern Kentucky Chapter Scholarship Application.  The scholarship is for upcoming graduates who are interested in pursuing a degree in Engineering at an ABET-EAC accredited college. An amount of $8,000 will be awarded and distributed in increments of $2,000 per year, as long as a 3.0 GPA is maintained, and the applicant remains in the engineering field. Click Here for Scholarship Application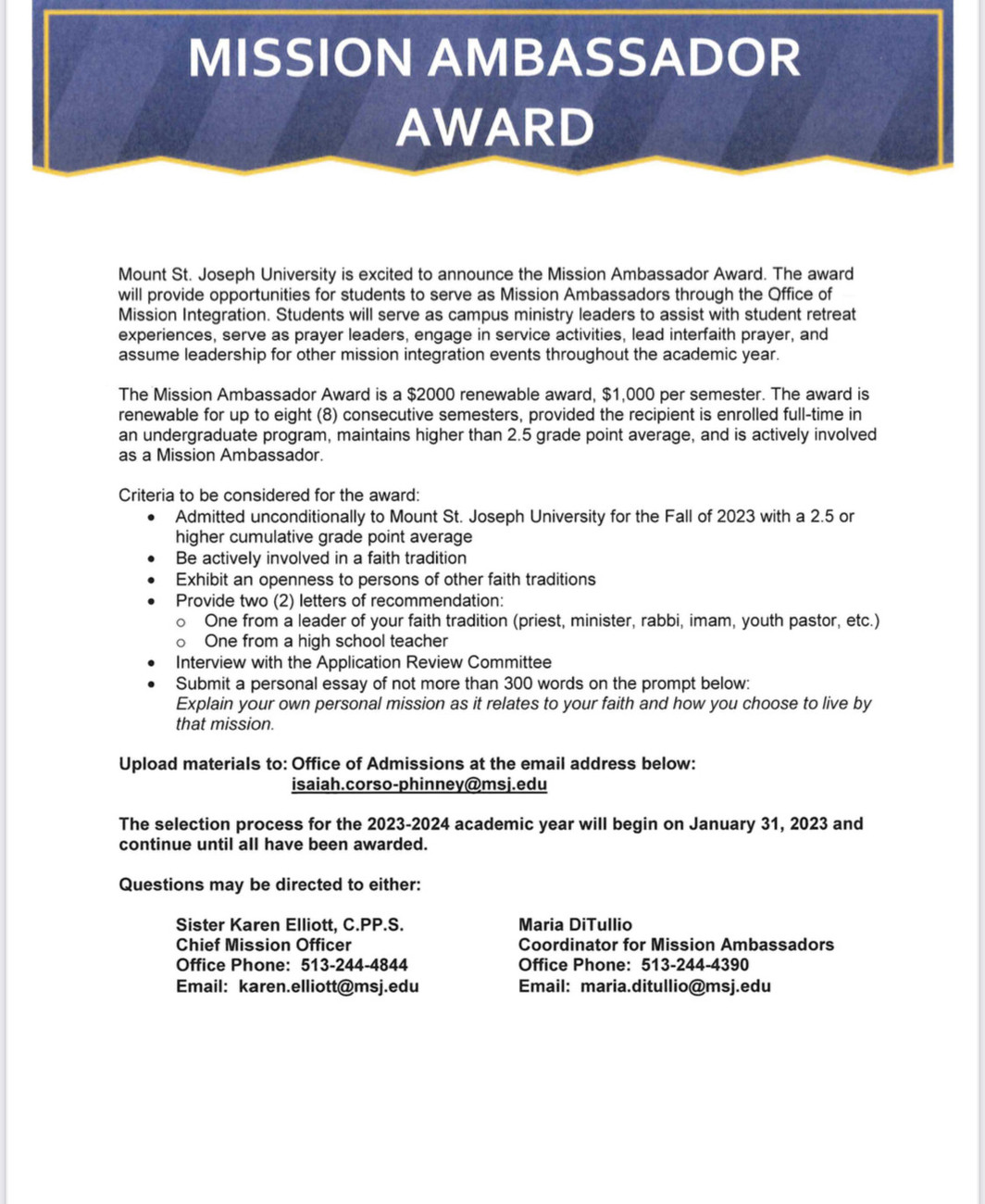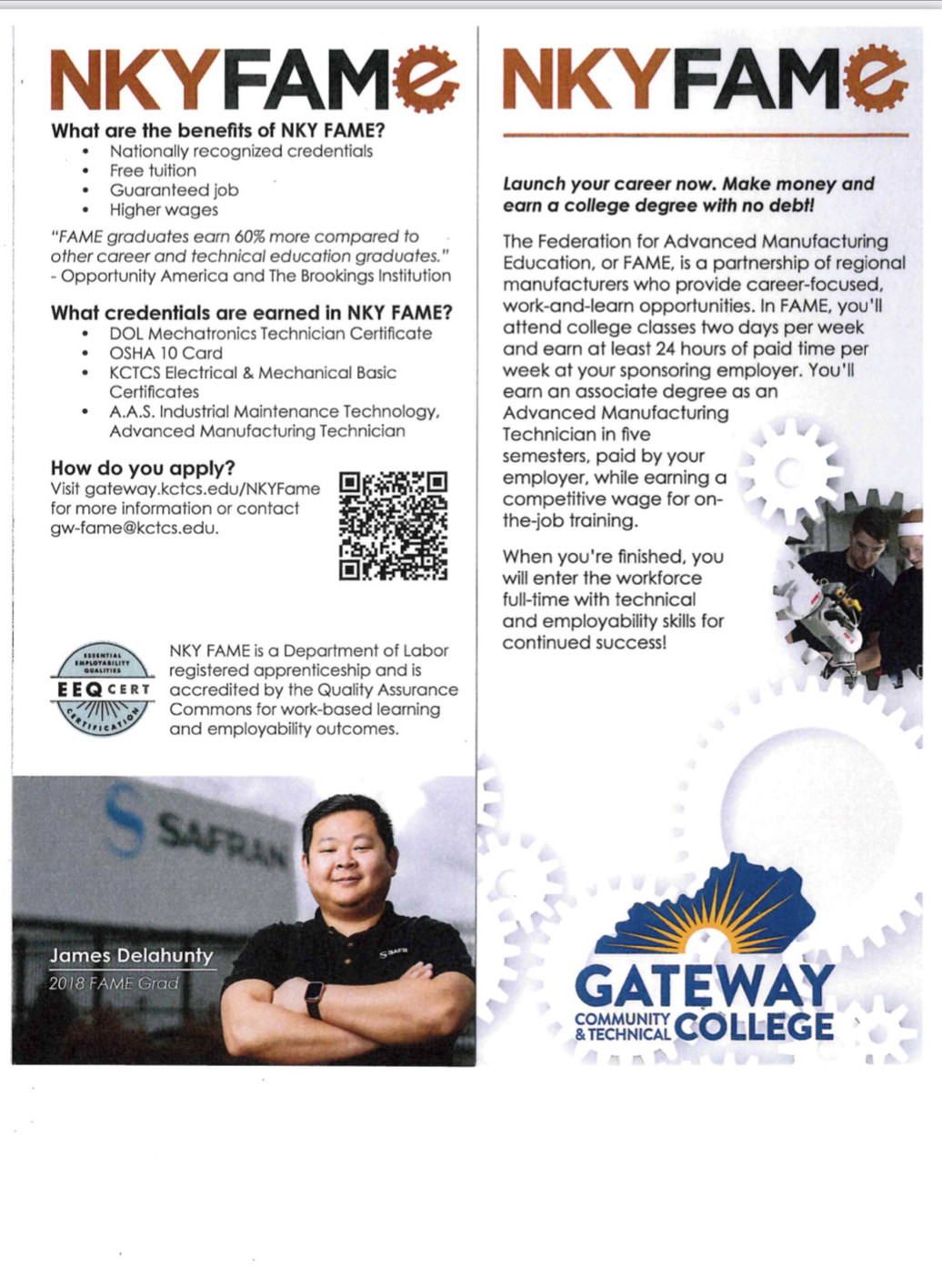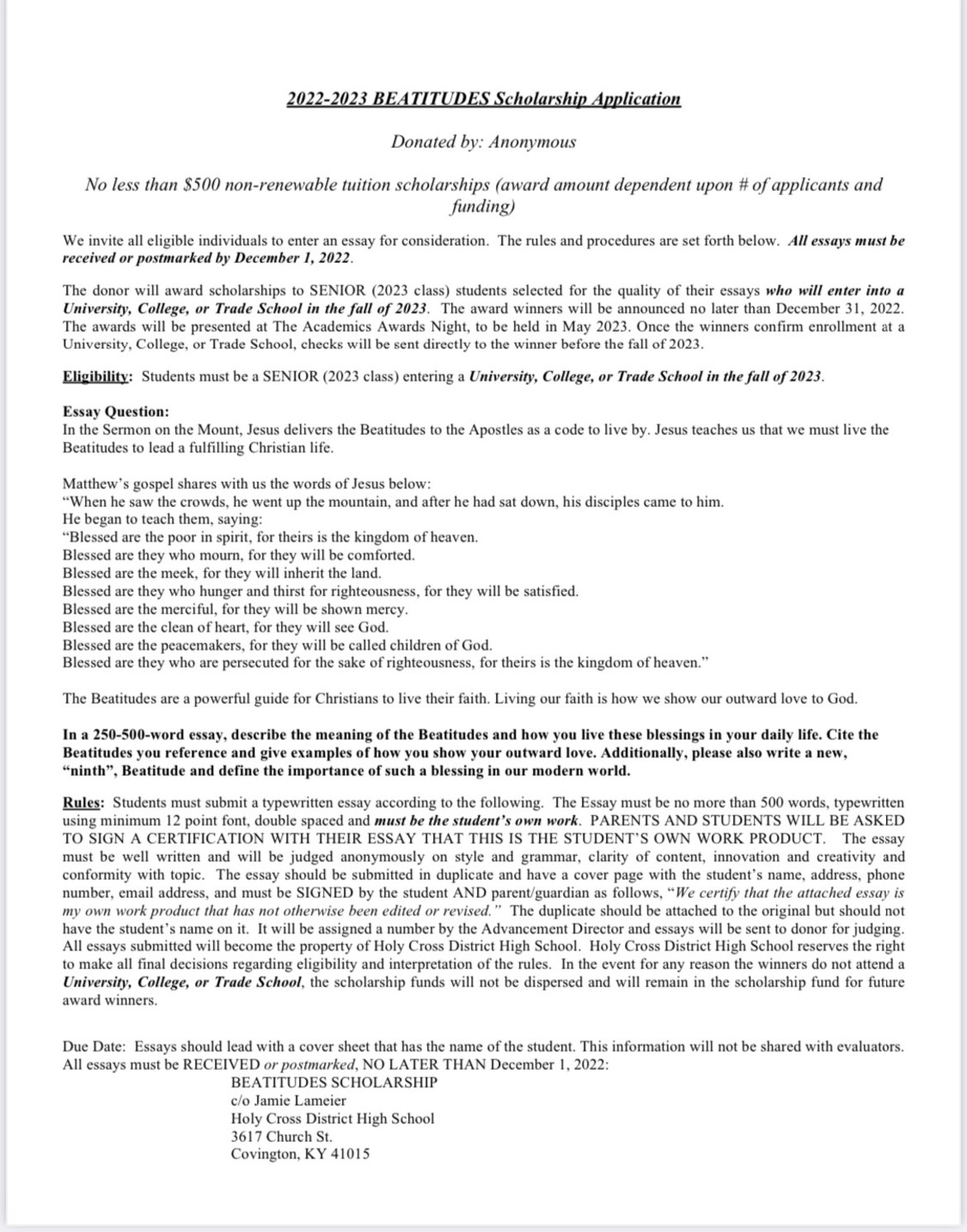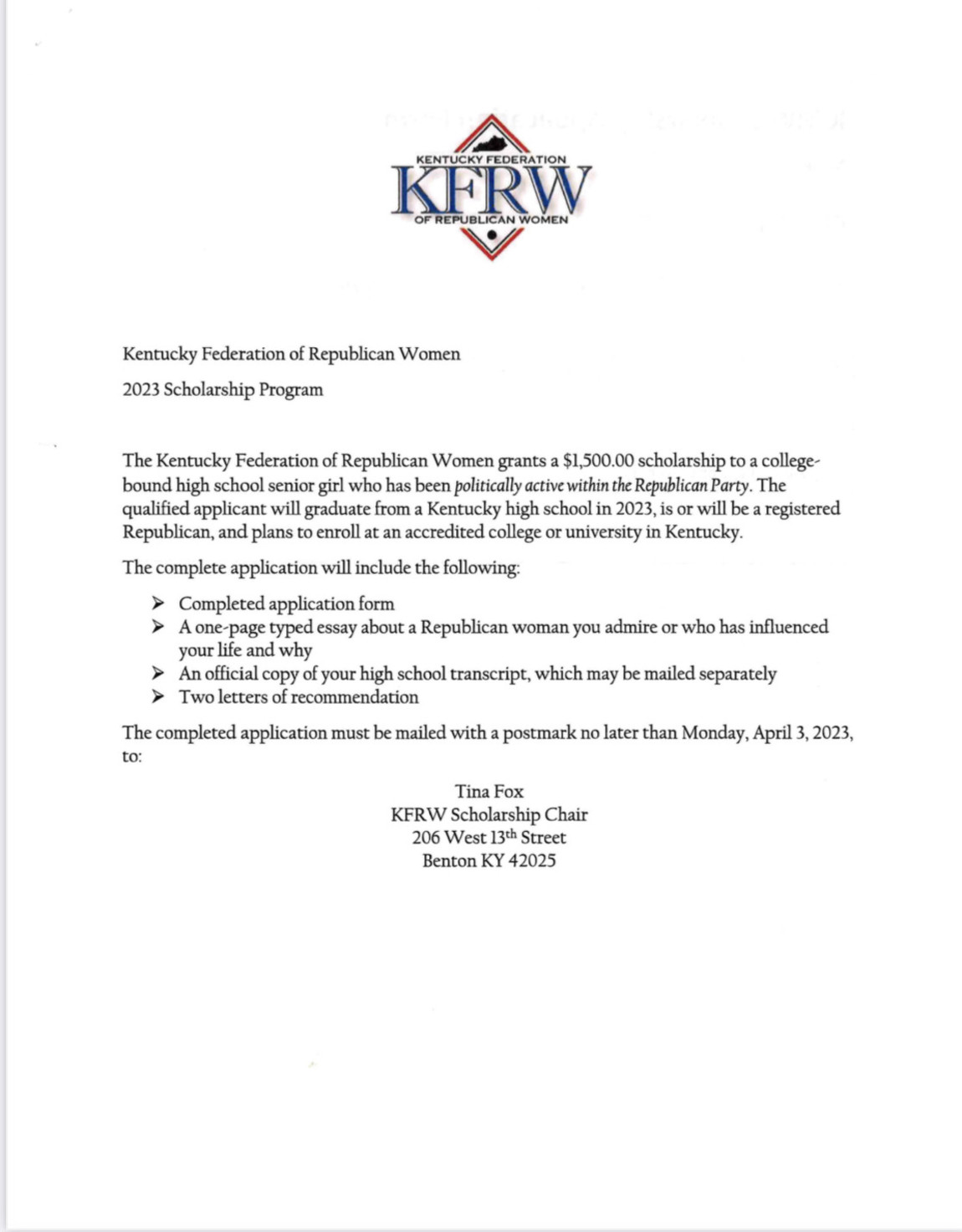 Upcoming College Visits:
The following colleges will be visiting Holy Cross District High School. This is a GREAT opportunity for Sophomores, Juniors and Seniors to stop by Room 4 during Enrichment to talk to the College Admissions Counselors and learn more about  the programs they offer and the scholarships that might be available.
Morehead State University- Tuesday, Sept. 6th
Northern Kentucky University- Tuesday, Sept. 13th
Thomas More University- Thursday, Sept. 15th
Gateway Community & Technical College- Monday, Sept. 19th
University of Louisville- Friday, Sept. 23rd
Eastern Kentucky University- Thursday, Oct. 13th
Transylvania University- Monday, Oct. 24th
KY Army National Guard- Thursday, November 10th Ssg. Paul Hill with the KY Army National Guard will be conducting a lunch room visit.
Planning Calendar for Seniors:
There are many steps along the path to college. Get a helpful planning guide to follow here.
Eventually, you will need to turn in teacher and/or counselor recommendation letters to colleges or scholarship programs. Please complete this personal biography form and have it ready to give to the teachers or counselors who will be writing the recommendation letters. This will help them gain a full perspective on the areas they need to highlight….(example, your awards, honors and your service to the community and extracurricular activities).
For any questions or personal guidance contact:
Jayne Dipzinski
College Advisor
[email protected]
859-431-1335 ext.193
Paying for College
FAFSA
Students who are planning to attend college this fall should fill out the FAFSA (Free Application for Federal Student Aid) anytime after October 1st! You can complete the FAFSA online at www.fafsa.ed.gov.
If you need additional information that can help assist parents and students, or if you need additional copies of the FAFSA worksheet, please go to www.fsapubs.gov.
KEES
Kentucky Educational Excellence Scholarships (KEES) are available to Kentucky high school graduates who are residents of the Commonwealth of Kentucky as determined for purposes of admission and tuition assessment by the University. KEES awards are available for a maximum of 8 academic terms and must be used within the earlier of attainment of a baccalaureate degree or 5 years from high school graduation. KEES awards can be used for the fall and spring terms only and are not available for summer coursework.
All students must keep track of their own KEES money. Go to www.kheaa.com/website/kheaa/home and click on student account. Make sure soc.sec.#, Date of Birth and each years GPA. is correct. You have a limited time to fix this information or it will be lost. The money will not be paid to you. This is out of the counselor's control. They do not have access to your account any longer. This is YOUR responsibility! Please contact your counselor with any questions. If you do have incorrect information on your account, e-mail the incorrect information and the corrected information to your counselor ASAP.
Information about the ACT can be found at www.actstudent.org/start
Registration
Registration packets for the ACT & SAT are available in the High School office.
You may also register online at www.actstudent.org/start
Holy Cross High School ACT Code: 180-555
ACT Test Dates:
-June 10, 2023   *Register by May 5, 2023
Test Fees:
$66.00   ACT No Writing
$91.00   ACT Plus Writing
ACT Prep Information
All junior students have the opportunity to take ACT prep classes at Holy Cross. These sessions do not guarantee you a 36 on the ACT, but will familiarize students with the format and "quirks" of the test. There is no charge, so you will definitely get your money's worth. Prep classes begin in October and meet during Enrichment period. A mock practice test will be given on a date to be determined in February. Click here for more information on Holy Cross ACT prep classes.
Additional prep help can be found at www.actstudent.org/testprep/index.html.