Prospective Students:
UC Clermont College will host our Spring Open House for future students on Thursday, March 9 from 4:30 – 6:30 p.m.
in the Student Activities Center at 4200 Clermont College Drive, Batavia, Ohio.
Prospective students can preview programs, meet faculty, tour campus and discuss financial aid with staff that will be available to answer questions.
The $50 application fee will be waived for anyone who applies that evening. Seniors with a 3.5-3.79 GPA can still receive a $2,500 UC Clermont Merit Scholarship, and those with a 3.8 or higher will receive a $3,000 UC Clermont Merit Scholarship (they are required to confirm admission by May 1 to lock-in this scholarship. It can also be renewed for 1 additional year)!
Please RSVP for this event. We hope to see you there!
Contact 513-558-8316 or [email protected] for more information.
Seniors and Juniors:
A link has been provided for students at Holy Cross to take the "My Major Quiz."
After taking this assessment, you will be recommended the top majors, colleges, and careers based on your academic achievements, interests, and personality. https://hchscov.mymajors.com/college-major-quiz/
Juniors:
The Commonwealth Honors Academy program is accepting applications through March 15th.
CHA is a unique opportunity.  The Academy differs from the traditional high school in its approach to learning and in the creation of a living-learning community. CHA offers students a chance to know and make friends with other enthusiastic, energetic students with high intellectual capacities. The interaction of students with different backgrounds is one of the most valuable aspects of the academy.
 Academy highlights: 
1.     Up to 6 hours of tuition-free college credit. 
2.     Receive an in-state full-tuition scholarship with a 3.5 cumulative high school GPA and a minimum 25 ACT Composite score.
3.     Living and learning with some of the brightest, most motivated students AND the region's most talented teachers in a genuine community. 
4.     Experience college life! 
Find the application at: www.murraystate.edu/cha
Scholarship Opportunities:
Click here for the American Legion Auxiliary Scholarship
Below is the link for the NSPE-KY Kentucky Society of Professional Engineer - Northern Kentucky Chapter Scholarship Application.  The scholarship is for upcoming graduates who are interested in pursuing a degree in Engineering at an ABET-EAC accredited college. An amount of $8,000 will be awarded and distributed in increments of $2,000 per year, as long as a 3.0 GPA is maintained, and the applicant remains in the engineering field. Click Here for Scholarship Application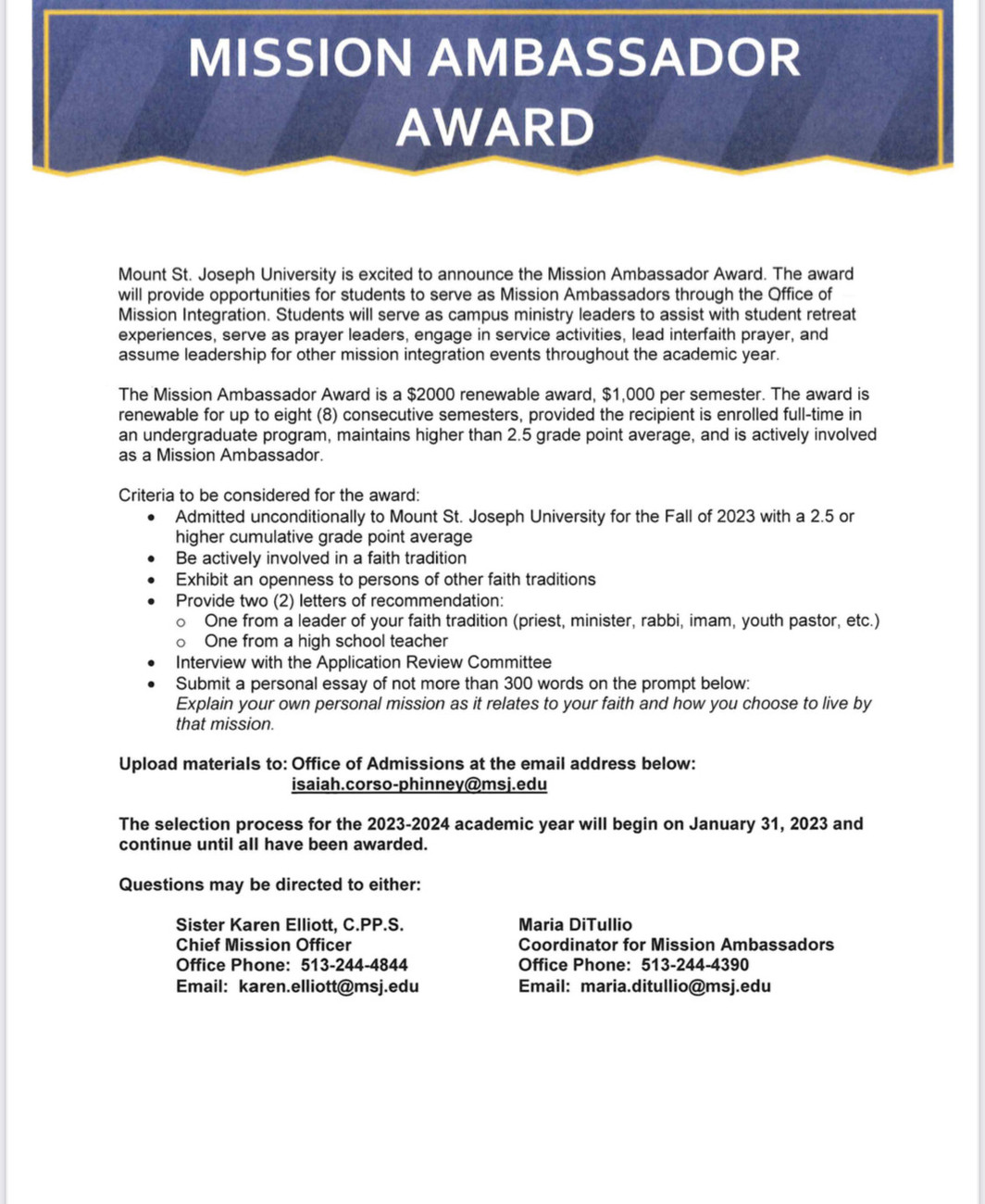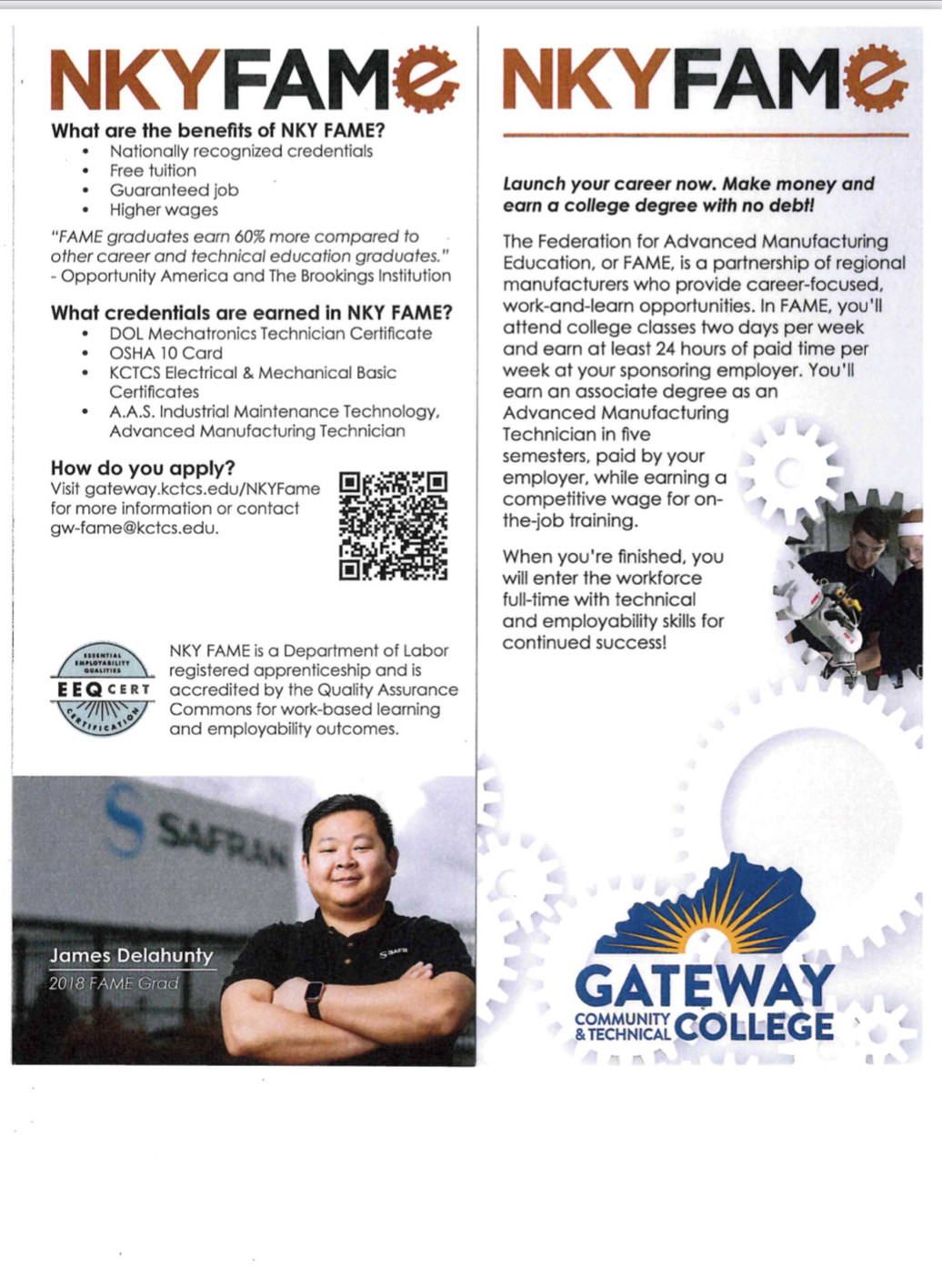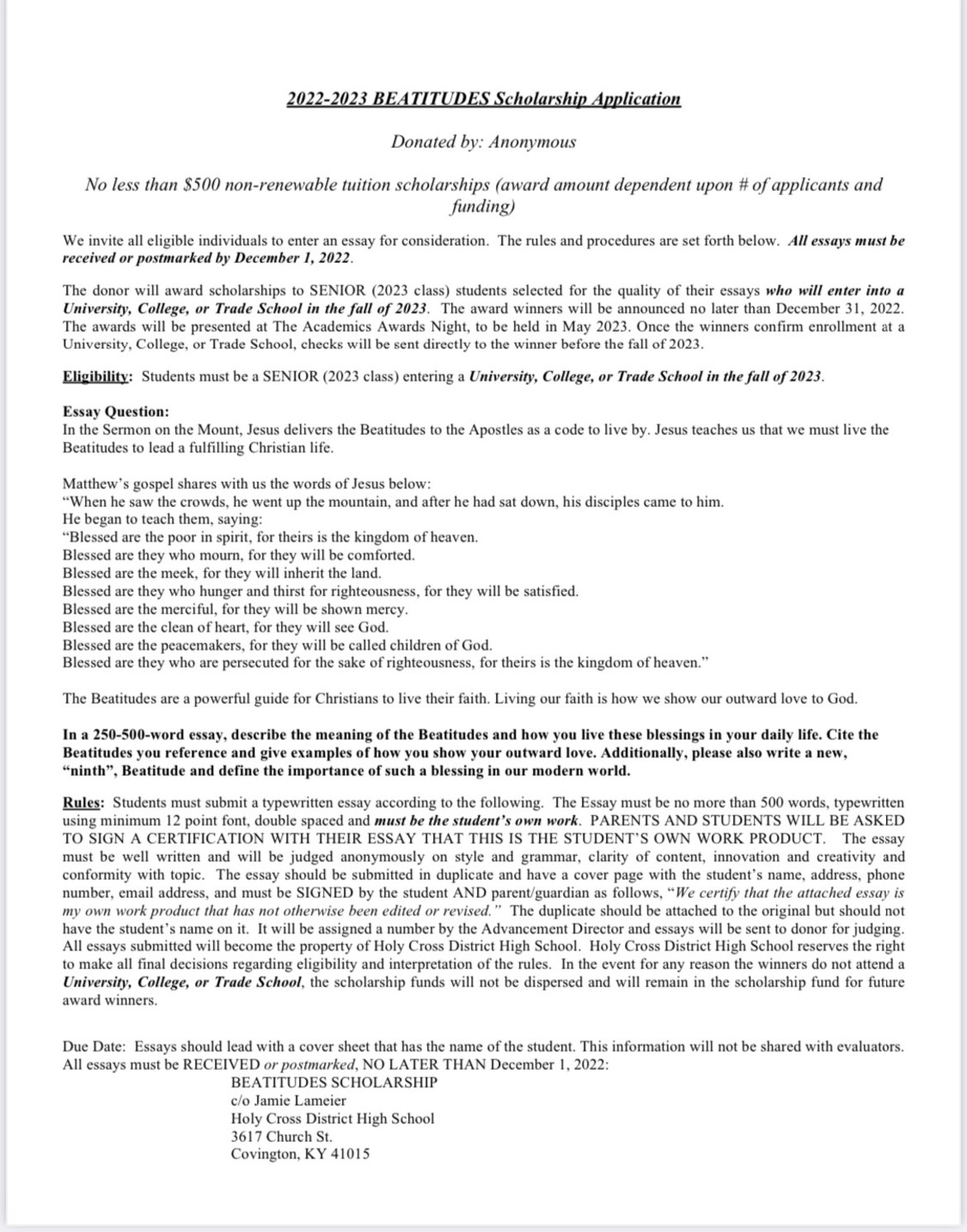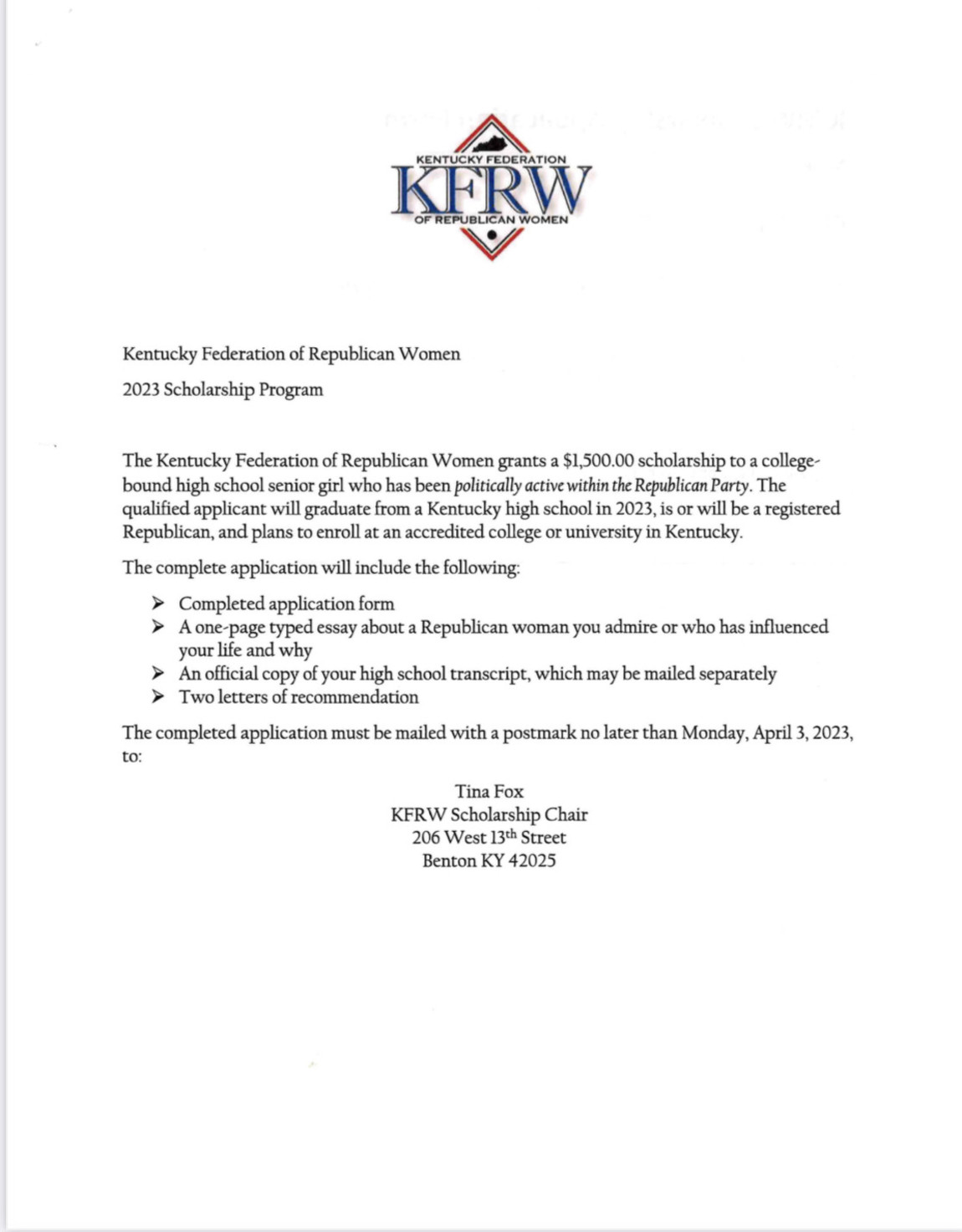 Upcoming College Visits:
The following colleges will be visiting Holy Cross District High School. This is a GREAT opportunity for Sophomores, Juniors and Seniors to stop by Room 4 during Enrichment to talk to the College Admissions Counselors and learn more about  the programs they offer and the scholarships that might be available.
Morehead State University- Tuesday, Sept. 6th
Northern Kentucky University- Tuesday, Sept. 13th
Thomas More University- Thursday, Sept. 15th
Gateway Community & Technical College- Monday, Sept. 19th
University of Louisville- Friday, Sept. 23rd
Eastern Kentucky University- Thursday, Oct. 13th
Transylvania University- Monday, Oct. 24th
KY Army National Guard- Thursday, November 10th Ssg. Paul Hill with the KY Army National Guard will be conducting a lunch room visit.
SENIORS!
Reminder... you will get three excused days to tour a college, take a campus visit, or job shadow. You have to fill out the Campus Permission Slip that is in the office, get your teachers and parents to sign this form, then turn the form in to Mrs. Lachmann prior to the day of your campus visit.
Planning Calendar for Seniors:
There are many steps along the path to college. Get a helpful planning guide to follow here.
Eventually, you will need to turn in teacher and/or counselor recommendation letters to colleges or scholarship programs. Please complete this personal biography form and have it ready to give to the teachers or counselors who will be writing the recommendation letters. This will help them gain a full perspective on the areas they need to highlight….(example, your awards, honors and your service to the community and extracurricular activities).
For any questions or personal guidance contact:
Jayne Dipzinski
College Advisor
[email protected]
859-431-1335 ext.193
Scholarship Opportunities:
- Click here for Cincinnati Scholarship Foundation Opportunities
 https://www.cincinnatischolarshipfoundation.org/
SENIORS/SENIOR PARENTS:
Please, Please, Please start the process of getting your Awards Letters and Scholarship Information to Mrs. Crowley or Mrs. Dipzinski.  During Awards Night, all scholarships will be read that the student has been awarded.  At Graduation, the scholarships that you are accepting and the school that you are committing to will be announced. We NEED to begin the process of creating the detailed list (to be printed and read).

You can send screenshots of the awards/scholarships, or we can make copies of them in the office!
Also, if your child is beginning a different path, such as military, career, trade-school, cosmetology school, etc.... We would love to hear their plans and recognize them on the Senior Star Wall!!!!  

Please let us know if you have any questions!
Paying for College
FAFSA
Students who are planning to attend college this fall should fill out the FAFSA (Free Application for Federal Student Aid) anytime after October 1st! You can complete the FAFSA online at www.fafsa.ed.gov.
If you need additional information that can help assist parents and students, or if you need additional copies of the FAFSA worksheet, please go to www.fsapubs.gov.
KEES
Kentucky Educational Excellence Scholarships (KEES) are available to Kentucky high school graduates who are residents of the Commonwealth of Kentucky as determined for purposes of admission and tuition assessment by the University. KEES awards are available for a maximum of 8 academic terms and must be used within the earlier of attainment of a baccalaureate degree or 5 years from high school graduation. KEES awards can be used for the fall and spring terms only and are not available for summer coursework.
All students must keep track of their own KEES money. Go to www.kheaa.com/website/kheaa/home and click on student account. Make sure soc.sec.#, Date of Birth and each years GPA. is correct. You have a limited time to fix this information or it will be lost. The money will not be paid to you. This is out of the counselor's control. They do not have access to your account any longer. This is YOUR responsibility! Please contact your counselor with any questions. If you do have incorrect information on your account, e-mail the incorrect information and the corrected information to your counselor ASAP.
Information about the ACT can be found at www.actstudent.org/start
Registration
Registration packets for the ACT & SAT are available in the High School office.
You may also register online at www.actstudent.org/start
Holy Cross High School ACT Code: 180-555
ACT Test Dates:
For ACT test dates and registration, deadlines go to www.act.org/regist/dates.html
Test Fees:
$42.50   ACT No Writing
$58.50   ACT Plus Writing
ACT Prep Information
All junior students have the opportunity to take ACT prep classes at Holy Cross. These sessions do not guarantee you a 36 on the ACT, but will familiarize students with the format and "quirks" of the test. There is no charge, so you will definitely get your money's worth. Prep classes begin in October and meet during Enrichment period. A mock practice test will be given on a date to be determined in February. Click here for more information on Holy Cross ACT prep classes.
Additional prep help can be found at www.actstudent.org/testprep/index.html.